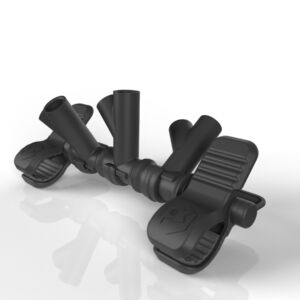 Don't forget the SportClamp
Start with a Clamp then select your flags. Or the other way around. We won't judge, but you really need both.
$39.95Add to cart
20% OFF Your Order!
They're Here! Order now and we'll give you 20% off. Hurry, this offer goes away soon!
(Discount will apply automatically in your cart)
Sport Clamps Story
It all started while I was sitting at my kid's soccer game listening to parents scream at the referee and bark red-faced instructions to their kids from the sidelines. I thought, Sports are supposed to be fun and these people are making it suck for kids! Why doesn't anyone do something about this? Nobody did.
So, I decided to give it a shot. Why not get "reminder messages" in front of parents at every game? My guess was that people would be less likely to scream at kids and officials if the parent next to them had a message on their chair that said things like "No college scholarships will be given out today, relax and enjoy the game".
As a sports fan myself, I also thought how cool it would be to be able to support my favorite NCAA and pro teams without having to drop a hundred bucks on the newest thing.
Unfortunately, I had absolutely no idea how to do it. Fortunately, I like to read. I studied everything I could find on product development, patents, industrial design, licensing and engineering. I joined inventor clubs, made a fool of myself in a couple of meetings, and learned just enough to find the right people to take my crappy hand drawn sketches and turn it into something cool.
It took most of my time for two years, some scary financial decisions (just ask my wife) and a ton of terrible prototypes but Sport Clamps are now set to be a real thing.
Our mission is to improve the sports experience for everyone. From the 4-year-old athlete to the parents watching the game to all the fans out there looking for a cool new way to rep their teams.